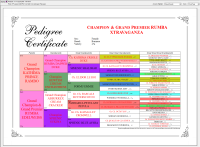 Pedigree with User Defined Ancestor Highlight (Ancestors With Same Breeder Highlighted) [requires Pro/Commercial Edition]
The user defined options require the Professional Edition (or better).
You can set up user defined ancestor highlights to emphasize those ancestors that have a chosen field set to a particular value, or to highlight those ancestors that share a given field value in common.
Example 1. This shows a highlighting rule that will highlight ancestors bred by the same breeder. Specifically, Breeders Assistant inspects the names of (in this case) the breeders of each ancestor within the displayed generations, and whenever a breeder appears more than once for distinct ancestors, then those ancestors get highlighted with a unique colour. The mechanism is general purpose and can be used for any field or export string.
Example 2. This shows a highlighting rule that is set up to highlight each ancestor according to, in this case, the value of its colour field. This kind of user defined highlight is set up by giving a list of (field match, colour) pairs. So colour 'Brown' could be set to a light brown shade, etc.