Pedigree Assistant produces attractive printed pedigrees. There are many styles available, some of which are shown down the side of this page.
Print-Quality Pedigrees
Pedigree Assistant's pedigrees can be customized in many ways to suit your needs e.g. to include different fields, change colors, fonts, include watermarks, photos etc.
Our print-quality pedigrees feature:
Between 3 and 8 generations ancestors.
Include photos and watermarks.
Optional breeder logo.
Show highlighted ancestors, e.g. to show common ancestors or repeat ancestors.
Choose the fields that are displayed, separately for the subject animal and each ancestor generation individually.
Have champions colored how you want them.
Choose from many different pedigree layouts - e.g. whether to include the signature line, whether to have separate photo box, whether to include a breeder logo area, etc.
Include calligraphic text for common wordings such as 'Pedigree', 'Pedigree Certificate', 'Trial Pedigree' etc.
Include artistic borders and corners - all fully configurable. Pedigree Assistant includes sample imagery - but you can use your own too.
Customize the colors and fonts used throughout the pedigree.
Choose between several styles of ancestors.
Print portrait or landscape on any size of paper with advanced printer support e.g. for manual tray loading, special papers etc.
You can save printed pedigrees as images (PNG or JPEG) - e.g. to send in email or include on a web site.
Print pedigree cover sheets for folded pedigrees.
Photos In Pedigrees
There are several ways to incorporate photos (JPEG format) into print-quality pedigrees.
You can include a picture box in the top right of the pedigree to display the subject animal's photo. Simply store the photo on your computer in the normal way e.g. as a JPEG taken from camera, then within Pedigree Assistant add the photo filename to the animal's record details. The photo will then automatically appear in pedigrees that include a picture box.
You can also include photos within the ancestor grid of the pedigree.
Watermark Images In Pedigrees
You can set a watermark image to use as the background of any print-quality pedigree. The image need not be a photo of one of your animals, you could use a clipart drawing or similar. We do not include clipart with the product, but this is readily obtainable online.
The watermark needs to be faded sufficiently to avoid it obscuring the pedigree that appears on top. Pedigree Assistant can fade the images - just enter a fade percentage and PA does it for you.
PA has many advanced options for controlling watermarks, including:
Watermarks can be set separately for each different pedigree layout you use.
Watermarks in pedigrees can either be fixed files (e.g. a breed study), or they can be the animal's own photo.
You can control the watermark alignment, tiling, fading, position and magnification.
Pedigree Borders + Corners
You can include decorative edges and corners in pedigrees.
Pedigree Assistant is supplied with a range of standard styles, including various sample graphics and motifs. All the decorative border and corners used in the examples you see on this page are included in the program. You can - of course - use your own graphics too. Here are some sample corner styles included with the product: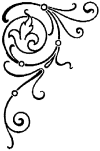 Sample Decorative Corner

Sample Decorative Corner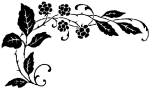 Sample Decorative Corner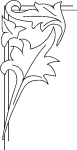 Sample Decorative Corner
When you set up a border you can individually control each corner and side of the area being framed - be it the whole page or a box within the page.
For the edges you can choose between various line styles or you might use a tiled graphic - e.g. to have paw prints running round all edges. Use of classic decorative borders with pedigree certificates gives a very professional result. Pedigree Assistant is supplied with a range of ready-made pedigree layouts called 'Copperplate' that include decorative borders in conjunction with calligraphic text to create superb printed certificates.
To set the border of a pedigree, first display it in the main window, then right-click and choose the Page Border option from the popup menu.
Calligraphic Text In Pedigrees
You can use calligraphic text to give that true 'certificate' feel to your pedigrees. We include calligraphic writing in a wide range of typefaces for common wordings such as 'Pedigree Certificate' etc. These can be printed at any size.
Over 50 different typefaces are included.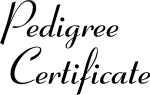 Sample Calligraphic Text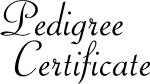 Sample Calligraphic Text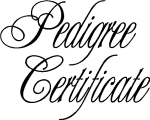 Sample Calligraphic Text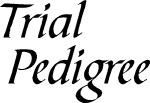 Sample Calligraphic Text
Title Coloring In Pedigrees
Pedigree Assistant lets you control the highlighting of champions in the pedigree.
The default setting is to highlight any animal with a title in red. You can change this e.g. to use bold rather than red - select Champion Highlighting from the Configure menu.
Pedigree Cover Sheets
PA can print the front page or 'cover sheet' of a folded pedigree. You simply print the pedigree itself on one side, the cover sheet on the other side, then fold the whole thing in half like a booklet.
Several styles of cover sheet are included; you can customize these or design new ones.
As with pedigrees, cover sheets can include photos (both varying from animal to animal, or a fixed photo), watermarks, your choice of fields, colors etc.
Inbreeding Coefficient
Pedigree Assistant can compute the inbreeding coefficient and display it within the pedigree heading.
You can choose number of generations of ancestors to include in the calculation (max 20).
If you are unsure as to what exactly is meant by the terms 'inbreeding' or 'common ancestors', please refer to our overview of inbreeding and common ancestors.
Image Pedigrees
Instead of printing a pedigree, you can save it as an image file. The main use for this is when you want to email a pedigree.
PA can save image pedigrees in PNG and JPEG format. PNG is the best for use on the web because its portable between different platforms (e.g. Mac) and does not involve loss of quality in the image (unlike JPEG).
To create an image pedigree in PA, all you need do is:
Display the pedigree on-screen as if you were going to print it
Select

Save Form As

from the

Form

menu
Enter the filename (e.g. "mypedigree.png"), and choose any options you want
Click

OK

.
When saving an image pedigree you have the following options:
Select the size of the image (in pixels). You can either select a screen size within which the image is to be made to fit e.g. to force creation of an image that will display in 800x600, or 1024x768 etc.; OR you can simply choose an image resolution in DPI and PA will determine the pixel size based on 'natural' printed size of the pedigree.
Select a margin size - in pixels.
Optionally choose whether to have a shadowed 'paper edge' added round the image.
NOTES:
1. All the image pedigrees you see on this web site were created in this way. We used a margin of 10 pixels for most images together with a shadowed 'paper edge'. The hi-res images were created using 150dpi resolution; the medium sized images were designed to fit on 800x600 screens. The thumbnails were created by reducing the larger images with an image editor.
2. Image pedigrees require that your chosen licence name appears in the pedigree heading in order to save them.