Use this short questionnaire to help you select which of our various animal breeding software products is likely to suit your needs best. Alternatively check out the side-by-side feature comparison.

The Personal Edition of our Breeders Assistant product appears to most closely meet your requirements.

This is our classic record-based pedigree software program for breeders of cats, dogs, horses, birds, rabbits, rats, rare breed sheep/goat/cattle and many other animals. Includes printed pedigrees, text pedigrees, image pedigrees, HTML pedigrees, comprehensive record keeping & many features for kennel/cattery management.

Breeders Assistant is only available for Windows (though, with a Windows environment such as 'Parallels' you can run it on a Mac).

Breeders Assistant · Product Details.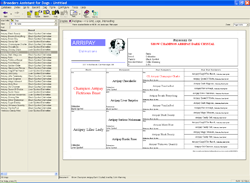 Breeders Assistant Main Window