Use this short questionnaire to help you select which of our various animal breeding software products is likely to suit your needs best. Alternatively check out the side-by-side feature comparison.

Our PedPro product appears to most closely meet your requirements.

PedPro is available as a native program for both Windows PC's and the Mac.

PedPro is a very straightforward and easy to use program for printing pedigrees, quickly, but also includes advanced features such as inbreeding calculations, ancestor highlighting, pedigree cover sheets, trial matings, PDF/image pedigrees (for email/web use), and other export formats such as HTML/XML/PDF.

Just point-and-click to fill in the on-screen pedigree form, then print or save as PDF.

PedPro · Product Details.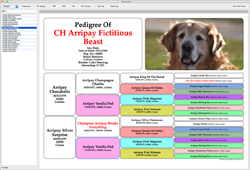 PedPro (Mac)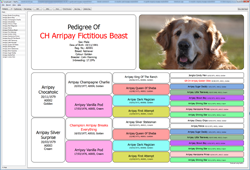 PedPro (Windows)