Tenset is a long established developer and supplier of pedigree and breeding software for breeders of cats, dogs and other animals. Our products can help you efficiently manage your breeding records, build your own pedigree database or simply print wonderful pedigree certificates. We have many thousands of customers across the world.

Breeders Assistant is our main pedigree software product and breeding program for the cat or dog breeder. Whilst it's designed for Windows computers you can also run it on a Mac if you have 'Parallels' or similar.
It includes highly customizable pedigree certificates, text/image/HTML pedigrees, mating certificates, detailed record keeping & features for kennel/cattery management, and so much more.
Breeders Assistant is available in several editions, e.g. the Pro edition which includes advanced genetics such as coat color prediction and higher database capacity.
Breeders Assistant for Dogs is a version of the product thats tailored to the needs of dog breeders e.g. with the Pro Edition it includes an understanding of canine genetics allowing color predictions to be incorporated into documents such as trial matings - a feature not available in any other dog breeding software we are aware of.
Likewise Breeders Assistant for Cats is customized for the needs of cat breeders and includes many cat-specific features such as support for GCCF, CFA and TICA breeders and inbuilt knowledge of EMS codes (including 8,000+ GCCF EMS codes), and with the Professional Edition also includes knowledge of cat color genetics, enabling predictions of color in mating certificates etc.

Full Details of Breeders Assistant...

PedPro is a pedigree program for your Windows or Mac computer. Simply fill in a pedigree template, then print. Pedigrees include inbreeding calculation, ancestor highlighting, watermark image, and customizable generations.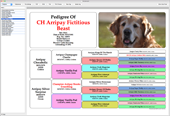 PedPro also has user defined data fields, customizable data entry window, pedigree cover sheets, trial mating pedigrees, PDF/image pedigrees, pedigree import from Breeders Assistant and Pedigree Assistant and data exports such as HTML/XML.

Full Details of PedPro...

Pedigree Assistant is an entry-level record-based pedigree program for breeders of cats, dogs and other animals. Produces printed pedigrees & pedigree cover sheets.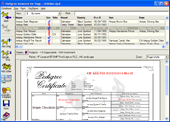 Designed with ease of use and budget in mind, this is for customers who don't need the power of Breeders Assistant, but want the same style of pedigree and a similar record-oriented user interface.

Full Details of Pedigree Assistant...