Importing Data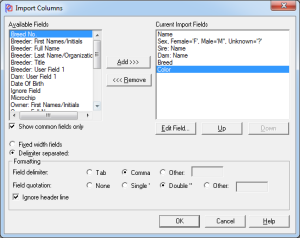 Pedigree Assistant provides a flexible and powerful mechanism to import pedigree data from external sources, in Text/CSV format.
Many programs, including Tenset pedigree software products, but also some 3rd party pedigree software products and other software such as widely used spreadsheets and databases can generate Text/CSV files.
In order to successfully import such data into Pedigree Assistant it needs to include, as a minimum, columns for the animal name, its parents i.e. sire and dam, and ideally its sex and date of birth. The columns giving the sire/dam links can be given using either record numbers or names; if using record numbers then there also needs to be a column giving the record number for each animal.
For detailed step-by-step examples that show exactly how to import data into Pedigree Assistant please refer to the 'Importing Data' tutorial.
Options in the import facility include:
Choice of exactly which fields you want to import, and in what order.
Select delimiter (normally comma) and field quotation options.
Whether or not to ignore any heading line (e.g. with column titles).